Update 2019: Something unusual is going on with Lebron James' Hair. In yesterday's game, Lebron's hair fell out.
---
Lebron James Hair Loss
Lebron James and his hairline have been in the news a lot lately due to his move back to Cleveland and due to his being voted the most popular male athlete in the US. His recent photos clearly indicate frontal balding. July 12, 2014 photo from the AP: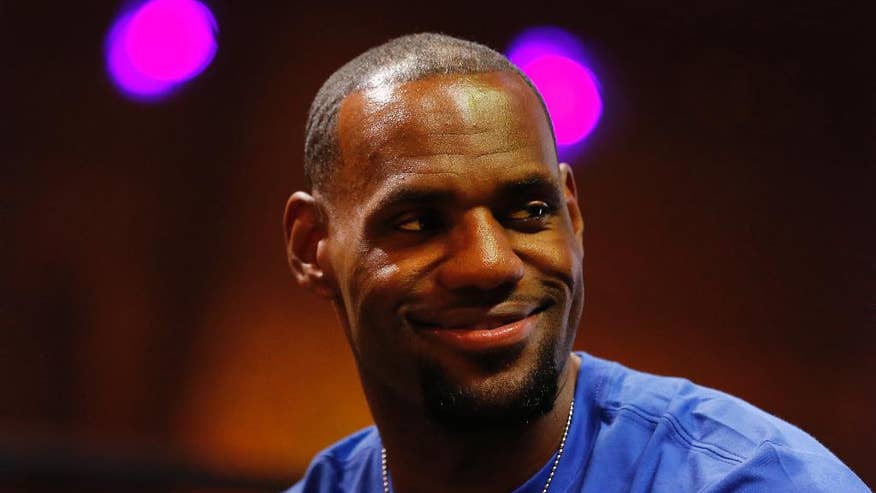 However, his hairline seemed better in 2012 and 2013 as far as I remember from watching a few basketball games.
Lebron James Hair Transplant
I assumed he got a hair transplant in 2011, since the below Twitter post from that year suggests that his childhood hairline would be "coming back soon":
That was the last time my hairline was right and tight! LOL. Coming back soon though #childhoodmemory http://t.co/d0P45n35

— LeBron James (@KingJames) October 27, 2011
He added the following childhood photo to the Tweet:
You can find various mostly fake or unclear pictures on the internet about a line at the back of Lebron's head suggesting a strip hair transplant scar. In any event, it is clear that Lebron's hair transplant has failed if he had one.
Athletes that Hate Losing Hair
Hair loss bothers almost everyone who suffers from it, including superstar highly successful wealthy athletes such as Lebron James, Wayne Rooney and Tiger Woods. Some of these athletes say so publicly (often via self-deprecating jokes).
Some hide it via regular adornment of caps, and some decide to go the hair transplant route. Despite their 100s of millions of dollars of wealth, none of these athletes are able to get back their childhood hairline with current technologies.